After the massive changes in the voting laws in Georgia that gave the Democrats control of the Senate – the State, is now recovering from the Scamdemic. Somnambulant Republicans have awakened from their year with their heads up their derrière that allowed the evil lawyers of the left to turn their once very Red State Blue – as in their emotional state, not just their politics. Georgia just passed voter laws that require an actual ID. Imagine that! What are these mostly Republican White Supremacists thinking? Don't they know that there must be millions of Blacks in Georgia without IDs. Why, to quote JoeBama – this is not just Jim Crow – this is Eagle Crow! Huh? Oh, if with Jim Crow laws there's lynching, segregation and laws to prevent Blacks from voting – Eagle Crow must be much worse! Get the analogy. What are these law makers thinking? IDs to vote? Of course, these same poor black folks need an ID to buy a six pack of beer, to open a bank account, to rent or buy property, etc. But if we want to avoid Eagle Crow, every person should be able to vote and vote often to insure that no white supremacist is restricting their rights. Of course, that means none of these poor oppressed blacks can buy a six pack a beer or rent or buy property, but at least they'll be able to vote and vote often. Of course, if we actually had a rational discourse on the subject, sane people would agree that what we want is actual citizens to vote, to have voter integrity, so to make sure that they are only voting once to keep people trusting that that system is not corrupted by wonky software systems in Crapastan, voter harvesting lack of transparency. And if we have a problem getting IDs, then we need to make it easy for all people, even poor disenfranchised blacks, to get some sort of ID. In fact, GA and other states with "disenfranchised blacks" need to pass a law that makes sure that those poor blacks who don't have a Passport or Driver's license, get a State ID proving their citizenship – and make even the white supremacist tax payers pay for it! Amen!
But of course, sanity is not involved in this discussion. This is about manipulating a "victim" group. And Coke headquartered in Atlanta did not object strongly enough to the new laws that had the audacity to actually require an ID. In this presser they talk a good game: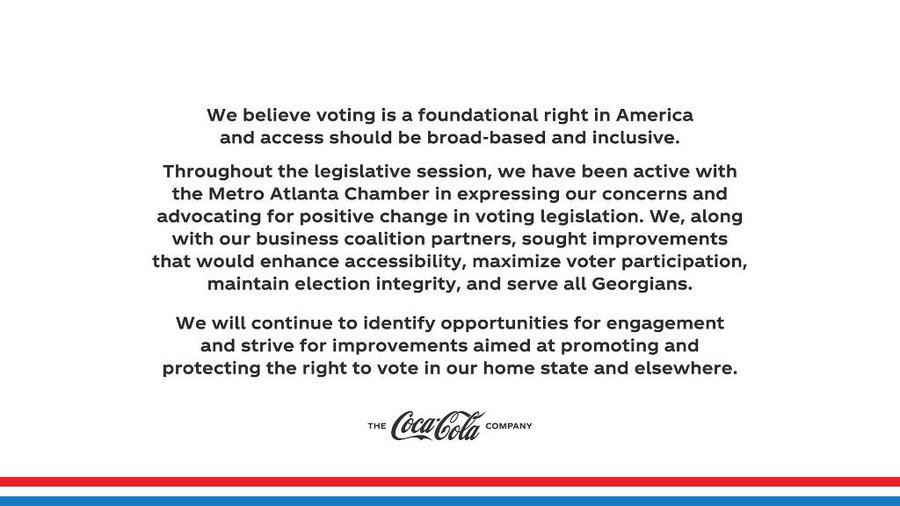 Election integrity? Please. Enhance accessibility. But that's not good enough for the illiberal locusts of the left. They will beat the race card to death, the scamdemic, boycotts, woke, cancel culture and throw in the kitchen sink to make these Big Companies comply.
Maybe Cowboy Guru on Twitter said it best:
Time for a national embargo against GA and every company housed there. Boycott Coke, Delta, UPS, Home Depot, and tell your state legislators and governors to cancel all contracts with any of those companies, and cancel any events in GA.
Here's the deal folks – we now live in the age of Boycotts from both sides. Coke and other companies in similar positions are between a rock and a hard place. They tried to walk the middle way, but there no longer is a middle way. The truly evil tyrants that see how effective their scamdemic has worked to change voting laws and scare people into submission, they are quite fine with Americans hating each other. When JoeBama says that his theme for his reelection campaign in 2024 is "Unity" – you have to be a total partisan hack to believe that anything JoeBama's puppet masters are doing has anything to do with "Unity". Besides, Vegas odds Camel O will be taking over well before his first term is up. Let's face it, the senile fool in the Oval is liable to trip and fall down the stairs to Airforce One and break his neck. No, that couldn't happen. Or maybe the octogenarian Speaker, fellow Catholic for unlimited abortions, Nasty Nancy will invoke the 25th amendment. One way or another, the illiberal left will have their first woman of color POTUS, approved by Hussein Obama and the rest of the Tech and Media Ruling Class. Joe – as he becomes increasingly a liability, will have to go – either voluntarily or perhaps, an unfortunate accident. They may have to call in the Clintons to give us a suicide. I was thinking Vince Foster, but I just found a site that chronicled a total of 27! 27 Suicides associated with Bill or Hill! Imagine the coincidence! The latest Jeffrey Epstein – pervert, sex trafficker. Not just Billy but others like SCOTUS Chief Judge Roberts flew to Epstein's den of inequity. There's the Whitewater convict McDougal. Gone. Mary Mahoney, one of Bill's victims of sexual abuse who mysteriously committed suicide right before she was going public in 1997. So many more, and if you're interested go to:
Here It Is… Complete List of Clinton Associates Who Allegedly Died Mysteriously or Committed Suicide Before Testimony, Including Jeffrey Epstein
This race division, the lock downs, the massive change in voting laws to compare any sane rule like IDs to Jim Crow has nothing to do with "unity". This is about making sure that everyone in America on both sides are at each other's throats – while the evil puppet masters get more power – unlimited power. That's the game folks. Boycotts for either side is just a diversion. The Tech and Media Tyrants, Wall Street, are now fully in control of all the instrumentalities of this Government.
The people need to rise up – but not at each other throats or to simply boycott. The people need to use what little is left in this Democratic Republic to go after the 20 or so Tyrants pulling the strings: Soros, Koch Bros, Bezos, Gates, Zuckerberg, Dorsey, top execs at Google, Apple, NBC/MSNBC, CBS Paramount, ATT/CNN, Disney/ABC. And the unholy alliance between the Teachers Unions and the Democrat party needs to be broken up too to stop the indoctrination and brainwashing of children who grow up and allow this woke tyrannical culture to flourish. Funny, not funny ha ha, but funny is the fact that I don't think any elected politician is on that list. We should have realized a long time ago that none of the politicians we elect work for us – they work for THEM!
But after 40 years of Tech and Media tyranny culminating in the coup that now looks like we are firmly locked in a one party State – it might be too late for anything short of Civil War. We can only guess at what this Civil War will look like moving forward. Unlike our first Civil War, this war will not have clear boundaries as in 1861, but one where certain states and population centers begin to simply nullify everything the Federal Government demands. What that sort of civil war looks like, who knows? But it won't be peaceful. With more guns than people, we can understand why those on the illiberal left want to disarm the people, but I see this only leading to anarchy – much worse than the wacky "unarmed" Qanon folks with Viking horns showed us on January 6th. Yes, and even more violent and deadly than the Antifa Bolshevik Lies Matter riots last summer. As Betty Davis told us in All About Eve: